HitGen-ChemSpace Webinar Release Time:2020-10-15 - 2020-10-15
Dear friends and colleagues!
Join ChemSpace Webinar 'DNA-Encoded Chemical Library at HitGen Inc.: Principle, Practice and Application', which will take place at 2:00 PM (CET) on October, 15.
https://bit.ly/3jpQpA8.
DNA-encoded chemical library (DECL) is an innovative drug discovery technology rapidly gaining wide spread interest in the pharmaceutical industry in recent years. It combines the power of molecular biology, combinatorial chemistry, high-throughput screening and advanced informatics to create vast number of novel molecules for hit identification and lead generation. As one of major leading companies in this area, HitGen Inc. has established an industry-leading platform for early-stage drug discovery research centered on DECLs.
This webinar covers the principle, practice and application of DNA-encoded library technology with proven successes in the selection of various target classes. The webinar finally concludes with the presentation of HitGen's commercially available off-the-shelf DNA-encoded chemical library for self-service screening.
Register now!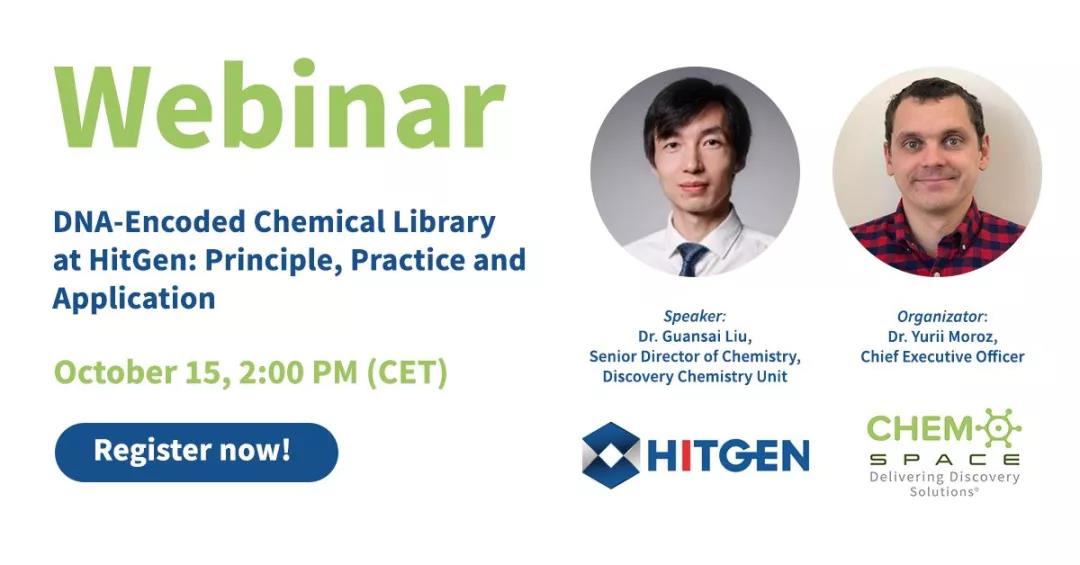 To oarrange a meeting with HitGen, please call +86-28-85197385, +1-508-840-9646 or visit www.hitgen.com.
For media inquiries: media@hitgen.com
For investor inquiries: investors@hitgen.com
For business development: bd@hitgen.com