RNA interference (RNAi) is a process of sequence-specific post-transcriptional gene silencing triggered by small interfering RNAs (siRNAs). Over 20 years development, RNAi technology has been rapidly becoming powerful tools for gene function studies, such as loss-of-functional test and target validation, as well as potential therapeutic agent for the treatment of human maladies, including genetic disorders, infectious diseases and cancers, etc.
RNAi-based therapeutics offer an exquisite power to target undruggable human and viral genomes. To date, 4 siRNA drugs have been approved for genetic diseases and hypercholesterolaemia. The lessons learned from past failures and current success provide valuable information. As shown below, Patisiran was the first commercial RNAi-based drug for the treatment of rare cases of hereditary amyloid transthyretin amyloidosis (ATTR). We optimistically expect a new peak of RNAi therapeutics in the coming years.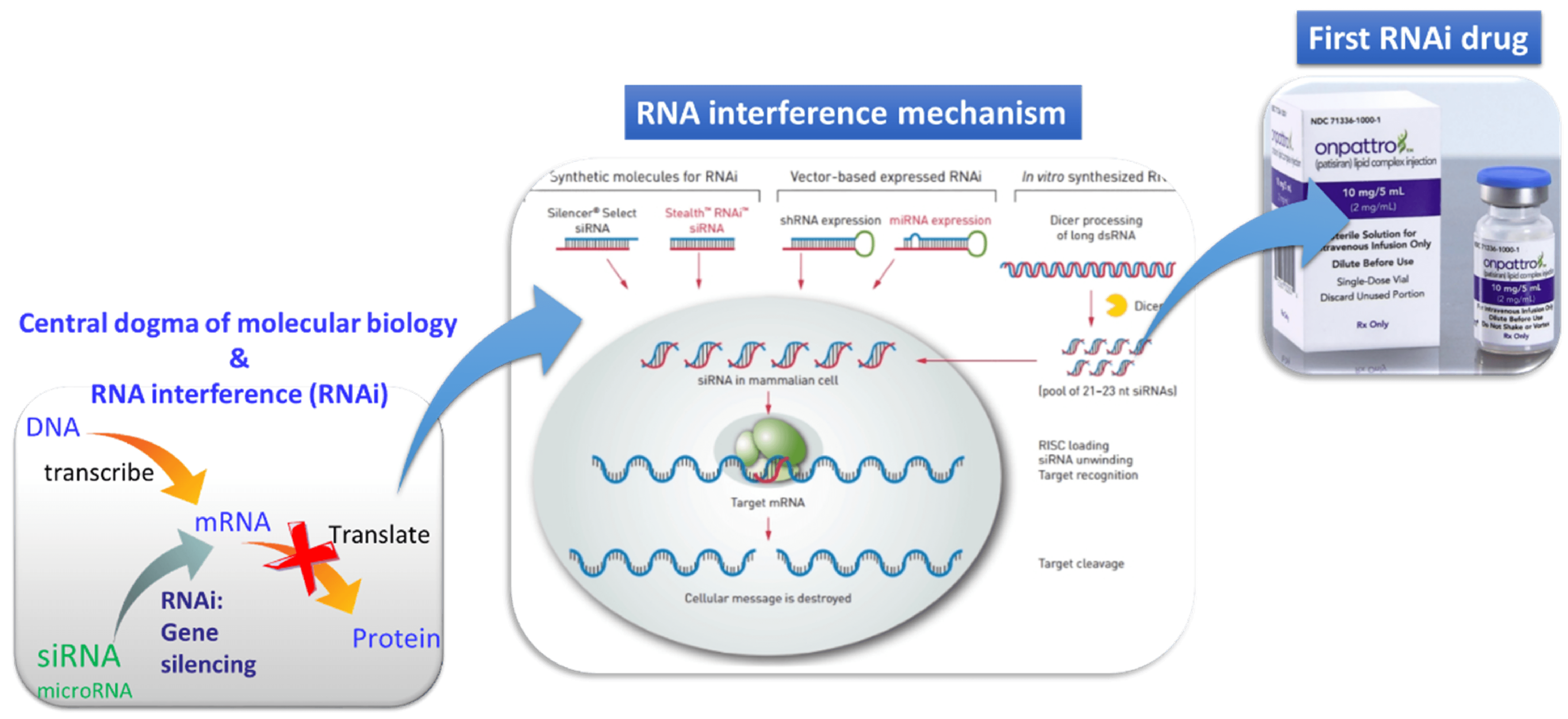 Provide validated siRNAs as a facile tool to support target validation
Accelerate your project decisions – Synthetic siRNA-mediated RNAi is the facile and cost-effective way to effectively knock down gene expression to study target function in a wide range of cell types. In HiGen, transcriptome-wide, bioinformatically validated siRNAs are available for targeting human, mouse or rat genes in the NBCI database. Each siRNA is synthesized and purified with the high QA and QC standards that ensure high-quality products. Our validated siRNAs with highly specific and effective RNAi activity enable gene-specific function analysis and target validation study, which essentially accelerates decisions of your project at the early stage.
Generate highly potent siRNAs to support RNA drug development
Endorse your RNA drug development - Partnering with our knowledgeable experts covering bioinformatics, RNA biology, nucleic acid chemistry, translational research, clinical medicine and beyond, we can provide highly tailored RNAi services to support your RNA drug journey. HitGen has been incorporating the key features in rationale siRNA design, off-target effect prediction algorithm and nucleic acid chemistry and demonstrating reliable, highly potential and specific gene silencing effect with greater stability and less cellular toxicity. We have established the functional platforms to enhance workflows and accelerate turnaround time for various stages in RNA drug development.