HitGen's protein science team expertise includes detailed target know-how in various target classes, construct design for a variety of available expression systems, multi-protein complex assembly, refolding and purification skills. We focus on novel protein targets and customized Gene-to-Protein projects, whether for crystallization purposes, screening, assay development or general drug discovery research.
We produce proteins according to our clients' specifications, starting from a gene construct designed for their purpose, with multiple tag variations and defined post-translational modifications, as well as functional labelling (e.g. biotinylation), as well as defined post-translational modifications.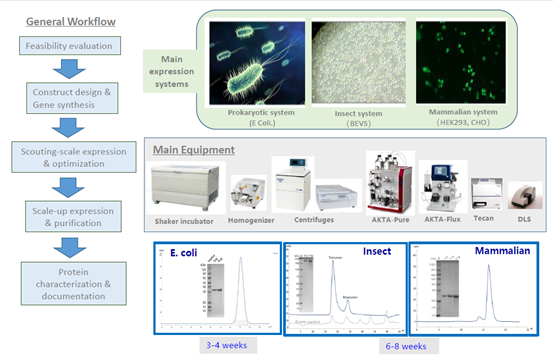 Most target constructs are rationally designed by a knowledge-based design process, including experience, literature data, and specific needs for downstream application. The purification and quality control demands are set together with our internal downstream scientists or external customers to meet the project requirements.
Our expression platform includes a full suite of expression systems (E.coli, yeast, insect cells and mammalian cells). The detailed host cell and vector information for the 3 main expression systems, as well as the tag types frequently used are listed below.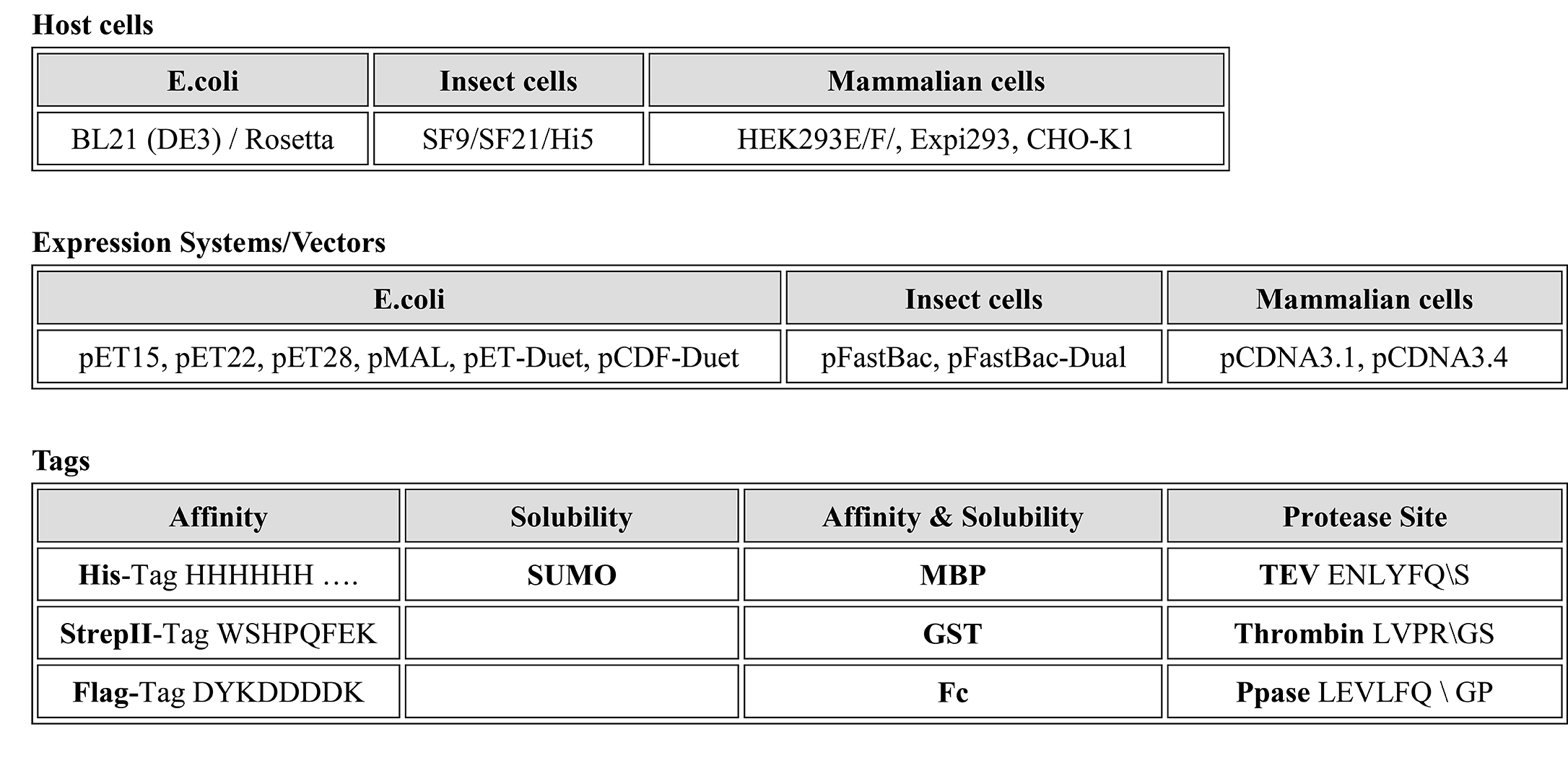 For difficult targets, we use focused small-scale screens to find suitable boundaries.
We purify all proteins in-house on AKTA FPLC systems using the classic chromatographic methods, such as affinity chromatography, ion exchange and size-exclusion chromatography. All purified proteins can be tested with UV spectro-photometry and SDS page gel analysis to ensure >90% pure. We usually produce the proteins of interest in multi-milligram quantities.
A complete protein science solution is available at HitGen, including:
Construct design and molecular cloning

Expression system optimization

Purification by affinity, ion-exchange and size-exclusion chromatography

Protein characterization
High quality proteins can support and facilitate a number of key processes in drug discovery; and naturally our protein production capability feeds seamlessly into other HitGen functions/services, such as:
X-ray Crystallography for SBDD / FBDD programs

Biochemical/Biophysical Assay Development

DNA Encoded Library based screening for hit identification
Our "crystallography grade" recombinant protein production can be available as stand-alone service or combine it with crystal structure determination.
HitGen Target Protein Production Overview
(In-house expressed over 110 target proteins, covering more than 20 different classes)